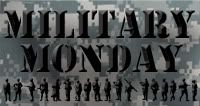 This installment of Military Monday is all about what you can do to pass the time while your spouse is gone. Hubby left for basic training three weeks after we got married. I had an extremely hard time at first. I was overcome with loneliness and depression. I hated the feeling. I'm a fairly happy person so I knew that I did not want to go through the next few months feeling that way. So after a little grieving time, I knew that I needed to do something to keep me occupied and to keep my mind off of the fact that Hubby was gone. Here are a few tips that I learned.
Put yourself out there and get involved. Cat from 5 Nuts in a Nutshell mentioned that if you're interested, getting involved with a Family Readiness Group would be a great idea. I definitely agree with her. However, I didn't know how to get in contact with my FRG. So I got involved in my community. I lived in student housing since Hubby was still in school. My community was four rectangular buildings arranged in a rectangle facing each other with a grassy area and a playground in the center. My neighbors were really close in distance which was good for me because I was able to make friends easily which I probably wouldn't have if Hubby was home. I made some amazing friends that I still cherish today.
Educate yourself. Learn all you can about the military, especially your spouse's branch. I knew that since Hubby was in the military, this was going to be my life. I wanted to know anything and everything about this life I was going to live so that I could make the best of it.
Do things you enjoy. I love to read. But I don't have much time for it. The year Hubby enlisted, I made a New Year's resolution to read 20 books by the end of the year. When Hubby left for basic, I decided I wanted to make reading a priority because it made me happy. I'm pretty sure I read over 20 books in the whole summer. I also love getting manis/pedis but I hate spending the money to get them. I didn't do this often, just when I needed a little pick-me-up.
Plan things that you're looking forward to. This is really important. It helped the time pass faster because it separated the whole time Hubby was gone into shorter time periods. It doesn't have to be big things that you're excited about. For me, it was a lunch date with a friend or a church activity or even my favorite show every week. I did take a trip that summer and my sister-in-law visited me but mostly, they were small things that made me happy.
If you're religious, then this is also important: Pray; pray for strength, and pray for your spouse. Separation from your spouse is difficult and God will help you get through it and come out stronger. Also, your spouse can definitely use your prayers. Every night before I went to sleep, I made sure to pray for Hubby and to send my love to him. I really believe that Hubby felt my prayers and I know he was also praying for me.
Write letters. Your spouse needs your letters even more than you need letters from your spouse. I usually received letters pretty regularly from Hubby. However, there was a period of time when I didn't receive any letters from him. I felt like not writing to him until I received a letter from him. But I couldn't stop writing him. I also realized that I wrote letters to him for me too. It made me feel better that I could write something on paper and know that he would read it in a few days. It helped me feel connected to him. I wrote every day. When the cutoff date came where we weren't supposed to write any more letters, I created a letter journal and wrote every day in that to give to him when he came home. While he was at AIT, I sent care packages and letters.
I think that's about all that helped me occupy my time while Hubby was away. You will probably still have moments of loneliness but keeping busy is the best way to combat those feelings. It's important to be able to stand on your own two feet instead of moping around the whole time. Your spouse will be able to focus more on what he's there for if he knows that everything is alright back home.
If you have your own suggestions on ways to keep yourself occupied while your spouse is away, go on over to
5 Nuts in a Nutshell
to join in!