I'm getting a rather late start this morning because I decided to ignore my alarm this morning and slept in until Hubby got back from his PT class with the ROTC. I haven't done that in a while and it felt good... really good.
Anyway, it's Friday! Just a few hours of work this afternoon and then it's the weekend! Not that I have anything to complain about because I love my job. And it's the Halloween party today and I'm so excited to see all my little three year olds dressed up in their cute little costumes.
Another thing I like about Friday is Five Question Friday. I love learning about my fellow bloggers. So it's over to My Little Life for this week's installment.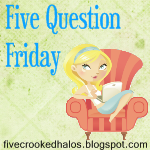 1. Do you prefer cotton, silk, or flannel sheets?
I prefer cotton and only cotton. I always feel like my toes are snagging silk sheets and flannel sheets get way too hot for me, even in the winter. So cotton is the only way to go.
2. What time zone are you in?
3. What is your favorite part of the holiday season?
I love the holiday season. I love it from Halloween all the way to New Year's. I don't know if I can pick an absolute favorite part. I love the smells of pine, cinnamon, baking, etc.
I also love the sights. I love the snow (yes, I said snow.) I love seeing the snow covered buildings and trees. I pretty much love snow until the holidays are over and the long and boring winter settles in.
And I can't forget about the sounds. I would start listening to Christmas music in July if Hubby would let me. I love it that much and never get tired of it. My radio station is set to the station that plays only Christmas music from the day after Thanksgiving all the way to Christmas.
4. What is your favorite "wintry" drink?
I love Stephen's Gourmet hot chocolate. That is my beverage of choice in the winter time. Especially mint. Whoever thought of putting mint and chocolate together is a genious in my book.
5. In your opinion, what is the worst job in the world?
Any job where there is no progression is the worst job for me. I love being able to set goals for myself and achieve them and a job is a perfect way to be able to do that. So if I can't progress in my job, that would be the worst job in the world.
Alright, that's it. Now it's your turn. Head on over to My Little Life to join in the fun and link up with other bloggers.