It's Friday! I'm so glad the weekend is here so I can relax and get over this cold. Lucky for you readers, you get to hear from me twice today... For the first one, it's over to Mama M's
My Little Life
for Five Question Friday.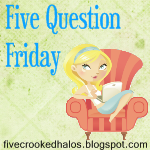 1. Do you prefer your ice cream in a bowl or in a cone?
It depends. I love sugar and waffle cones. If it's either one of those, I prefer ice cream in a cone. If not, I prefer it in a bowl. However, when I'm at Baskin Robbins, I want both. Just put the ice cream in a cup and put the cone on top.
2. What three things do you love the smell of?
-I love the smell of my husband's cologne. He's been wearing the same scent since we were dating and every time I smell it, I still get twitterpated. (Yes I just said twitterpated.)
-Rain... I love the smell of rain. I'm from Seattle so the smell of rain reminds me so much of home.
-Christmas... I love the smell of Christmas trees (real Christmas trees because that's the only way to go in my family), peppermint, Christmas baking, everything having to do with Christmas.
3. Gift cards or no? (In regards to gift giving...)
I give gift cards. When I'm mailing gifts, I prefer gift cards because they're easy to send and packages can get expensive for this college family. And gift cards eliminate the stress and worry that the receiver might already have something you want to give them. But there is great satisfaction for me in watching someone open a gift that you put a lot of thought into.
4. What sports did you play in high school if any and do you still play them?
I played tennis in junior high and high school. I swam for fun (not on the team). I still play tennis occasionally but unfortunately, I have not found a tennis buddy yet since we moved to this new city. I still swim as often as I can for fun.
5. Were you in band in high school? What instrument did you play?
I was in band in high school. Lucky for me, band was what all the cool kids were doing. (Does that automatically mean that I'm cool?) I played the clarinet. I don't really play anymore. After I graduated, I switched to vocal and performed in a few choirs in college but haven't really touched my clarinet. I've also switched to the piano.
Now it's your turn! Head over to
My Little Life
to join the fun!