Yesterday was a long day! I worked all day at the preschool. I think my kids' parents spiked their breakfast with crazy juice because they were all out-of-control. It made me all the more happy that it was a long weekend.
And now, onto Five Question Friday!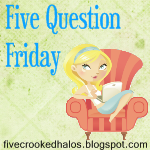 Heck yes I am! I'm just a sleeper. I love to sleep. My mom called used to tell me that if sleeping were in the Olympics, I would win a gold medal. If I could take a nap every day, I would be one happy camper.
2.
What was your favorite subject in school? Most hated?
I loved science in school… particularly the life sciences. One of my favorite classes in high school was my marine biology class.
Least favorite subject- math… hands down. I have always hated math and I've never been good at it.
3. Did you have the something old new borrowed and blue at your wedding? What were they?
4. What is one thing are you determined to do this summer?
I am determined to go to the beach as often as possible. It is by far my favorite place about where we live and I am determined to be there multiple times each week.
5. Ice cream or Popsicles?
I love them both but I think that I prefer popsicles. But not just any popsicle… otter pops. I'm addicted. I eat them all summer. I'd eat them during the winter too if D would let me. We're already on our second box of 100 and it's only May.