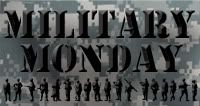 Aw, the military ball. What girl doesn't like to get dolled up and wear a fancy dress for a night? Military balls are a perfect opportunity for military wives to dress up and be a princess for a night. Unfortunately, I have never been to one. Do I want to go to one, heck yes! Hubby's unit in Utah never had balls… or any family functions aside from the Christmas party for that matter. But guess what?! Hubby's new unit is having a Christmas ball NEXT MONTH!
Unfortunately for this girl, Hubby's high tuition costs mixed with living in a big, expensive city means we have no money for a dress, no money to stay at the expensive resort where the ball will be held, and no money for the dinner. So I guess this Cinderella will be stuck home sweeping out the fireplace… or, since we have no fireplace, maybe sitting in front of the TV eating a delicious, unhealthy treat.
BUT, there's good news! Hubby is in the ROTC and the National Guard. This means, there will be plenty more opportunities to attend military balls. And by the time the next one rolls around, you can be sure that we will be there.